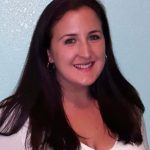 There's a lot more to Britney than the awesome experience she brings to our team. We'd like to take a minute here and talk about 10 more things you might want to know about our admin star!
(Q) Favorite thing to do on the weekend?
Spending time with family and friends! We just moved to Mesa, Arizona from San Diego, California so taking the kids to the beach or the zoo was my favorite weekend activity. Now that we are in Mesa we are still looking for fun weekend things but I love sitting poolside with a good cocktail!
(Q) Where is your favorite shop or place to shop at?
I'm kind of obsessed with Target! They have everything, plus Starbucks and a dollar section.
(Q) Where was your favorite vacation?
Growing up our family vacations were spent floating on the river in either Laughlin or Havasu. My husband just got out of the Navy after 12 years. During those 12 years, he deployed three times, we moved seven times and lived in four different states. We really haven't had time to take a real vacation. Now that he is out and we are settled I hope to change that!
(Q) What food do you dislike the most?
Seafood! I can't stand the smell, flavor or texture of anything that comes from the ocean (except fried calamari!)
(Q) What is your favorite music?
Rock and Country. I am super excited to finally see Metallica in concert this year!
(Q) Do you like Movies?
Yes. My three-year-old daughter Emma usually has control of what movie we watch. We have watched Moana every day since it came out! (My husband and I can't say "You're Welcome" without singing it like Maui!)
(Q) Favorite Restaurant?
BJ's Brewhouse – they have the BEST chicken tender salad and strawberry martini!
(Q) Do you have any favorite pets?
Before my husband and I had kids we had a Siberian Husky, Gretzky. He was our first baby and the BEST dog! We lost him in 2013 due to kidney failure. We are hoping to add another husky to the family soon.
(Q) The BEST gift you ever received?
My pink glitter KitchenAid stand mixer!
(Q) You love people who…?
Make me laugh!